The biggest news in the Bay Area art scene is the recent opening of the Anderson Collection at Stanford University. It is important because it contains over a hundred of the greatest paintings and sculpture by Americans in the last half of the 20th century, creating an invaluable resource for Stanford students and the local art community.
Internet grab
Harry W. "Hunk" and Mary Margaret "Moo" Anderson,
and their daughter, Mary Patricia "Putter" Anderson Pence
As art philanthropy goes, it is a great story. Harry W. Anderson made a fortune by founding a food service company to manage college cafeterias; it became the largest business of its kind in the 1960s. In the middle of that decade, he and Mary Margaret, and their teenage daughter Mary Patricia, made the grand tour of Europe, concluding at the Louvre. There Harry and Mary Margaret (often referred to as Hunk and Moo) discovered a love of art; they resolved to inform themselves and to begin a collection. In that effort, they were aided by professors at Stanford, including artist Nathan Oliveira.
From the beginning they considered themselves custodians of a community treasure, and they made the collection available for study and loans to museums. They also gave a collection of 650 graphic works to the Fine Arts Museums of San Francisco, displayed in a dedicated gallery at the de Young Museum, and an extensive Pop Art collection to the San Francisco Museum of Modern Art, also displayed in a permanent gallery there.
The Entrance to the Anderson Collection
The culmination of their philanthropy so far is the donation of 121 paintings to Stanford, which constructed a lovely building exclusively for the collection. It is located next to the Cantor Arts Center, and like it, has free admission. A charming video in the entrance hall shows Hunk, Moo and their daughter, generally known as Putter, expressing their passion for art and their conviction that sharing is their duty. It makes you feel good to hear these folks talk. They feel that the world needs this art. They contributed sixty paintings from their own home; the film shows the works being removed from their dining room, the entrance hall, and their daughter's room. It must have been wrenching to see them go; but they have plenty more to replace them.
Modest and retiring, almost hidden behind some of the grand old trees on campus, the two-story Anderson Gallery is light and elegant, and very well suited to the collection. The ground floor has guest services, a library, offices and the introductory film.
The grand staircase
In the center is a visually daring variation on the grand staircase that is traditionally part of an art museum. The stairs rise gently, but they narrow from 10 feet at the bottom to 5 1/2 feet at the top, telescoping your view onto a huge canvas by Clyfford Still, one of his greatest.
Clyfford Still, 1904-1980
1957-J No. 1 (PH-142), 1957
The second floor galleries are lighted by a rim of translucent clerestory windows, in combination with electronically controlled artificial lighting; the light is clear, white, and even, perfect for photography, which is allowed. The floor plan is open, with each gallery flowing into the others. The layout is clearly marked and easy to learn, so that you can roam around comparing various works of art.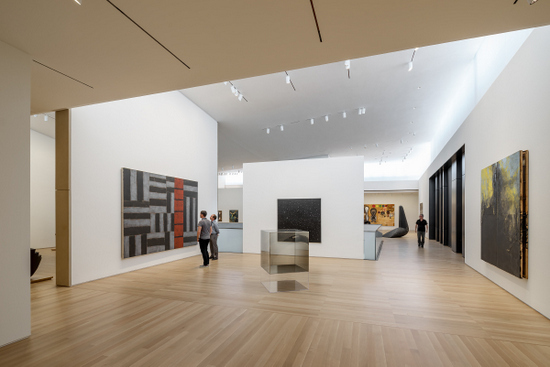 Internet grab.
The galleries have an open plan.
Each work is exemplary of its movement, and equal attention is given to art trends on the east and west coasts. The New York School, which practiced abstract expressionism, was dominant during the middle of the century; it is represented by one of Jackson Pollock's best drip paintings. Actually, the artist seems to have gently flung paint on the canvas, in controlled arcs, layer after layer, creating an effect that reminds me of Sir Walter Scott's saying, "Oh what a tangled web we weave when first we practice to deceive." Appropriately, the title is "Lucifer."
Jackson Pollock, 1912-1956
Lucifer, 1947
Detail of 'Lucifer' showing tangled web of paint
Pollock's work was so radical, that it opened new areas of exploration in painting. Here are a few more examples of the New York school of expressionism. Mark Rothko was concerned with using color relationships to create a deep and thoughtful mood.
Mark Rothko, 1903-1970
Pink and White over Red, 1957
The great teacher, Hans Hofmann, was interested in how color relationships create space; color can pull your vision into the depths or pop it to the surface.
Hans Hofmann, 1880-1966
Fall Euphony, 1959
Willem de Kooning, Pollock's arch-rival, was best known for his angry depictions of women, but late in life he did some lyrical abstractions that are grouped at the gallery with the New York School.
Willem de Kooning, 1904-1997
Untitled V, 1986
A small amount of sculpture was also shown in this group. Louise Nevelson created abstractions out of scraps of wood.
Louise Nevelson, 1899-1988
Sky Garden, 1959-1964
David Smith often created metal sculptures that were almost flat, like two-dimensional art, using metal to create abstract graphic designs. This is a maquette, or small mock-up, of a work he then produced in a larger scale.
David Smith, 1906-1965
Timeless Clock, 1957
Abstract expressionism was not very popular on the West Coast. Here's an excellent example of Bay Area Abstraction by Sam Francis. The Beaubourg of the title is a section of Paris where a famous museum of Contemporary art called The Pompidou Centre is located.
Sam Francis, 1923-1994
The Beaubourg, 1977
Bay Area artists were more interested in figurative work. They developed a school which applied the juicy, rich style of abstract expressionism to depictions of figures in environments. It took awhile for West Coast art to gain nationwide recognition, and the Andersons get credit for recognizing its importance early in the game.
Richard Diebenkorn, 1922-1993
Girl on the Beach, 1957
David Park, 1911-1960
Four Women, 1959
Wayne Thiebaud is often considered a pop artist, but his paintings of ordinary treats have the rigid organization of geometric abstractions, and though the edges are defined, the paint is thickly applied.
Wayne Thiebaud, b. 1920
Candy Counter, 1962
Another approach to art eschewed thickly applied paint and expressive brushwork, for flat surfaces and hard edges. These are grouped as Hard Edge paintings at the Anderson Gallery. Josef Albers' principal form was the square, which he painted in various color combinations.
Josef Albers, 1888-1976
Homage to the Square: Diffused, 1969
Al Held painted highly complex geometric abstractions. He is generally classed as an abstract expressionist, but his flat, hard style is the opposite of Pollock's or de Kooning's.
Al Held, 1928-2005
Inversion X, 1977
Pollock's idea of applying paint in non-traditional ways resonated with another school of painters, known as the Color Field school. Helen Frankenthaler is often credited as the originator of this movement; like Pollock, she poured paint directly on raw canvas, and created an interplay between spontaneity and control.
Helen Frankenthaler, 1928-2011
Approach, 1962
Morris Louis poured many layers of thin paint along the same pattern to create radiant depths of color.
Morris Louis, 1912-1962
Pendulum, 1954
On the West Coast, concern for abstract values in art developed into the California Light and Space Movement, which manifested as sculpture. Many works played with light in such a way that they tended to disappear. Robert Irwin created a famous illusion with a disk and special lighting. Larry Bell created a glass box that blends with the setting.
Robert Irwin, b. 1928
Untitled, 1969
Larry Bell, b. 1939
Glass Cube, 1984
In contrast with art based on austere theories, California produced an irreverent movement called Funk, that includes both paintings and sculpture. This painting by Bill Allen is meticulously rendered but its intent is a comical commentary.
Bill Allan, b. 1936
Half a Dam, 1971
Robert Hudson's sculpture is reminiscent of tinker toys and childhood joys, but it wants to disappear into the background, the way our childhood disappears into our adult life.
Robert Hudson, b. 1938
Plumb Bob, 1982
There were a few works in a style intriguingly called "Post-Minimalism." I can't explain this, but these chairs by Scott Burton are cool, and following them is the best photo I ever managed to get of a work by Agnes Martin, who generally painted pale bands of color.
Scott Burton, 1939-1989
Pair of Steel Chairs, 1987-1989
Agnes Martin, 1912-2004
Untitled #21, 1980
For me, the Contemporary group was the least interesting. This is a catchall category, with references to the other movements, and no unique approach or common characteristic. One of the best is Vija Celmins, who is rigorously intellectual while being tied to reality. I love her take on the night sky.
Vija Celmins, b. 1938
Barrier, 1986
In the next image, contemporary painter Deborah Orapallo combined stunning use of color with the subject of magic and disappearance to create a powerful image.
Deborah Orapallo, b. 1954
Houdini Challenged, 1990
Although all these artists are considered Americans, it is worth noting that many of them came here from other countries. Josef Albers and Hans Hofmann came from Germany. Vija Celmins and Mark Rothko came from Latvia. Louise Nevelson was born in Ukraine. Willem de Kooning immigrated from the Netherlands. Agnes Martin came here from Canada. One of the advantages of a free democratic society is that it attracts artists trying to escape oppression. The result is that the Anderson collection has an international avant-garde quality.
I can't urge everyone to dash up to Stanford to enjoy this new art collection. There are no "pretty pictures" here—no nubile girls bathing, no sensitive portraits, no thrilling sunsets. A few works make ironic or comical commentary, but by and large this is pretty serious stuff—abstract, intellectual, theoretical, experimental. Mrs. Anderson referred to the Clyfford Still painting at the head of this article as "tough," incomparably "beautiful" but "tough." You could say the collection is mostly "art for art's sake," meaning that most of the works don't refer to life or the real world; most of them manipulate art values for their own sake. Instead of saying to himself, "I want to paint this great alpine scenery," for instance, an artist might say, "I want to see how red interacts with other colors," or "I wonder if an all-black painting could be meaningful, or an all-white one." Even when Diebenkorn or Park painted a pretty girl, they abstracted the figure into the overall design.
If you have the appropriate background, or if you are kind of tired of traditional, content-driven art, spending a couple of hours in this new museum is quite uplifting. It's refreshing to putter about in a world of abstractions, setting aside your routine worries. The simplicity and concentration of most of the works has a meditative effect, if you're up for that.
For teachers and students of art, the Anderson Collection is an invaluable record of the main trends in art in the second half of the twentieth century. All of us in the Bay Area can be proud of this new asset.